The Hive - 4 berth luxury glamping accommodation
New for 2021 – our Hobbit-style pods.
Hive is our slightly larger pod, offering a bit more open space to enjoy. It comfortably accommodates a family of four, with a
king-sized bed and pull-out double sofa.
It is given a magical, secluded feeling by its covering of wildflowers and grass on the outside – using Nature as her hat and jacket – and having a curved ceiling inside. Alongside sister pod Honey, these little hideaways are like no other in Kent.
Brand new this year, they have a fresh, luxurious feel and are
well-equipped. We provide all linen and towels for your stay. There is £25 surcharge for each person above two and also a surcharge of £20 for a dog due to the extra cleaning and laundry.
There are views over farmland and each has a secret garden with
a wood-fired hot tub. They make the perfect spot for a romantic getaway or spoil yourself with carefree time spent alongside friends and family away from the hustle and bustle.
   4 berth / 1 room
   1 shower room
    Self catering kitchen
   Outside Seating
   Access Private Hot tub exclusive to your accommodation and to a communal Pool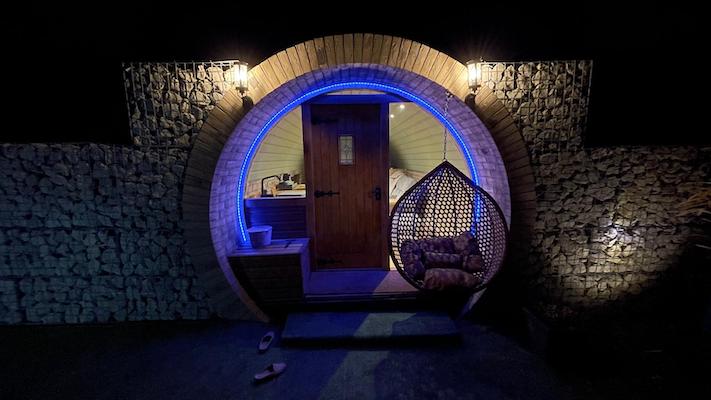 Local Area
Sheppey, which was once made up of three islands and was known as the Isles of Sheppey, provides a very diverse habitat for wildlife.
Groundhouse Sheppey is sited between two National bird reserves. We are five minutes from Elmley conservation trust and about 15 minutes from Shellness RSPB site. They are both well worth a visit for bird lovers and walkers. There are breeds of birds that people come to the Isle of Sheppey to see and you can quite often spot them from our site.
Sheerness, which is about 10 minutes away, is the main town and offers shopping and supermarkets. It also has Bartons Point coastal park, with its crabbing lake. Depending on the season you can hire kayaks or canoes (or bring your own) and there is also a miniature steam train railway that offers rides.
You can enjoy a long walk along the seawall or beach, taking you near to Bluetown, which is the area of Sheerness by the former dockyard and boasts a heritage and entertainment centre. You can also pay a visit to Whelans, Britain's biggest manufacturer of concrete garden ornaments.
Head east along the seafront and you will find Minster on Sea, with its blue flag beach. It also has an historic Abbey plus gatehouse museum. Our favourite way to see the beach is to park at the top in Seathorpe avenue car park ME12 2HU and enjoy the view from the top and walk down to the sea
Towards the eastern end of the island you have Eastchurch, which has an aviation museum celebrating the island's key role in the early years of flight, and Leysdown, where arcade lovers won't be disappointed.
Queenborough is also worth a visit, with its fishing harbour, jetty and quaint pubs and eateries.
Just down the road from us we have a splendid farm shop, butcher, and bakery "Brambledown farm shop".
Get a fast train from Sittnigbourne-to st Pancras London, or drive to the O2 Arena in under an hour. From there you can get the Jubilee line(underground) or Thames hopper (boat) to the West end and choose from one of our many world famous shows, or just take in the city sights.
Whitstable, world famous for its oysters, is about 40 minutes in the other direction and, to top it, all we are 30 minutes away from the world famous Leeds Castle.
The Historic towns of Canterbury and Rochester are both little over a half hour drive.
Visit recommendations: The Elmley Conservation Trust, Queenborough, Minster the Leas, Leeds castle, Howletts wild animal park, port Lymp wild animal park, Canterbury, Rochester and theatre goers definitely the West End.
If you would prefer, having a bed picnic, watching your favourite Netflix and enjoying the hot tub, that's really quite nice and sometimes perfectly enough! This option is only available in Hive or Honey.
Local Food & Drink
Something to Eat and Drink ?
Sheppey has some great places to indulge your tastebuds and we have put together a small selection of some of the places where you can dine. Pre-book to avoid disappointment.
During the summer months you will be able to purchase drinks, lollies and light bites by the pool. If you can not find anywhere to eat we can sometimes provide a limited menu, ask your host.
Queenborough
Head for the high street of Queenborough almost go to the end where you can see the sea, on the left on the very corner you Bosuns Cafe,this is a day time only place, breakfasts and light bite lunches, further along on that turn you have the Admirals arms for lunches and dinners . The Flying Dutchman and Aviator also serve a wide variety of good value pub food and a generous carvery.
The Abbey cake shop Ideal for a sandwich, cake and coffee situated in our pretty Minster village where you can also find lots of take aways and a couple of nice pubs.
Mr India
You can take your own drink here, although they adjoin a cocktail garden out the back. The food and service is excellent.
Memes Meze
Excellent Turkish and Cypriot food. Sometimes they have entertainment on a Saturday again book to avoid disappointment.
The Rose Cafe sheerness
Situated in an unlikely place, the food is of a very good standard and if you like Greek or Cypriot food, you will like this, we recommend to book in advance.
The Beach bar and restaurant Minster
in Minster, has a whole section dedicated especially for dog owners and a separate space for other diners.
The Playa restaurant and bar
Situated with the beautiful view of the sea, has a lovely back garden as well, food choice here is extensive.
The Ferry house inn
Not always open to the public unfortunately.
The drive out to this place in Harty is an experience in itself and you'll likely see lots of wildlife along the way. It has an elegant, tasty menu to suit the gorgeous surroundings. They say much of the produce is locally sourced. Dogs are allowed in the bar area.
The woolpack inn Iwade
Very good pub and restaurant food, Steaks cooked and served on a special volcanic rock plate, best steak I have tasted locally.
Takeaways
If you fancy other takeaways such as Indian or pizza, there are local places that will deliver.
Saffron Masala Leysdown – Indian
Halfway grill- kebabs Pizza
Family friendly fish bar Sheerness- Fish chips, Kebabs.
Halfway Chinese takeaway
More Infomation & Pricing

Prices – Booking is for a minimum of two nights
Off peak during week: £140 per night
Weekends and School Holidays £160 per night
Christmas and new year £180 per night
Although the Hive pod is ideal for a couple, it is the larger of the two pods and can sleep a family of four. It's a real treat with its own private garden and wood-fired hot tub, we provide enough wood for one good session, you can buy the same again for £10. While we welcome dogs and up to four people it is aimed at couples and families, not parties. There is a £25 surcharge per person above two and £20 for a dog due to the extra furniture covers, laundry and cleaning required to make it perfect for our next guests.
A returnable security deposit of £100 must also be paid before arrival. Cancellation must be made three weeks before check-in for a full refund, and one week before check-in for a 50 per cent refund. If you have to cancel through unavoidable circumstances you will be offered an alternative date depending on availability.
For Covid 19 safety compliance please stick to the government guidelines and do not travel if you have any symptoms or suspect you have been near someone who has tested positive in the seven days previous to your visit.